Thur 12th to Sun 15th August 2021
QUADRATHON CHALLENGE 2021 NOW CANCELLED AND DEFERRED TO 2022
As Inishowen has grown to about 7 times the national average of infection over past few weeks and following discussions with Garda Siochana and other Healthcare personnel, encouraging participants from other geographical area's into a high risk community for a period of 4 – 5 days is considered a high and unnecessary risk. Therefore, taking all into account and the possible disruption of the event should an infection occur during it, we feel we have no other alternative but to cancel Quadrathon Challenge 2021.
We don't take this lightly especially knowing the training regime that goes into preparing for such an event and my thoughts are with all of you who likewise have put in a hell of a lot of work and now receive this disappointment.
WARRIOR –  1 to 4 Full Marathons over 4 days
QUEST      –   1 to 4 Half Marathons over 4 days
This is not just another running event, it's more personal than that, just ask anyone who's experienced it, the concept of camaraderie, lasting friendships, amazing scenery and great hospitality during this iconic 4 day running festival.
Witness the scenic Wild Atlantic Way, run a different route daily, along rugged coastal roads in the unspoilt Inishowen Peninsula, home to Malin Head the most northerly point and steeped in scenery, history and tradition and experience the hospitality and warmth of both locals and event.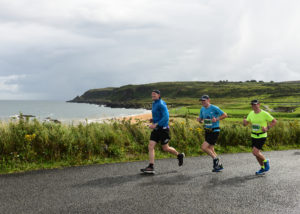 QUEST & WARRIOR -(Half's & Full's)– 2021 course variation.
In order to proceed with the Quadrathon in August we've had to rethink the course as the traditional course required a clatter of Shuttle Bus service. Each course is still extremely scenic and each day will be a different course.
Day 1 & Day 2 will be hosted at Malin Town with both Marathons & Half Marathons starting & finishing there
Day 3 & Day 4 will be hosted at Shoregreen, Moville, both races will also start & finish there.
There will be NO pre registration on the Wednesday, show up 1 hour before race start on the first morning.
This Four day event in a paradise of amazing rugged landscapes, sometimes hilly terrain and a different routes each day. Generous cut-off times, early start's for walkers and slow runners and fine-tuned race support ensuring runners focus is only on the challenge, and our comprehensive race logistics allows you stress free relaxation between races.
The growing success is attributed to the quality of the event and sociability of participants, it doesn't matter whether you're a sub 3 hr marathon or a half marathon walker, the varying start times for different abilities ensure total inclusion, no one is left behind with everyone finishing in a similar timeframe.
Whether medals are your thing or not you just can't overlook the Quadrathon Medal, every finisher of this punishing 4 day event is a true winner and the medal is testimony to that ethos and is fitting for the achievement. We would argue that its in proportion to everything else about the event which is bigger and better.
Event uniqueness in a nut shell
Personal achievement – You'll be in awe of your feat crossing the finish line each day
Spectacular Scenery – Words don't describe this scenery, you've got to experience it
Amazing Medals – All Quad finishers are winners – the Medal matches the challenge
Friendship – Lifelong memories and friendships are the real legacy of this gathering
Hospitality – Donegal is renowned for its hospitality, the Quadrathon is hospitality
Click on an image to view full-size gallery