Sign-up/Prices – 15th – 18th Aug '24
Race Prices
2024 Race prices are INCLUSIVE of registration fees and lots more. The Quadrathon is not just about a race, it's a lot more and a lot more included in the registration fees.
Inclusive Items that are unique to the QUADRATHON FESTIVAL
Event Buffet after each race with presentation meal on Sunday
A Combi-Medal that is as unique as the race itself.
Irelands only 4 day marathon event with a completely different course daily
A Shuttle bus service that eliminates transport concerns caused by different daily course. (Cost Extra)
A camaraderie that is special to the Quadrathon Festival.
Amazing lasting memories of an extraordinary event.
All-in-all, for most, it will be your event/achievement of 2024.
Organised Shuttle Bus transfers are also an important aspect of the event at an average cost of €6.50 / day.
Registration will close on Tue. 6th August '24 – unless previously sold out.
QUEST – Half Marathon Run / Walk
QUEST
Early Bird PLUS 
Expires 31st Sept. '23
Early Bird
Expires 31st Jan. '24
Normal Fee
Closing 6th Aug '24
4 Half Marathons
€ 175.00

€ 195.00

€ 215.00

3 Half Marathons
€ 139.00

€ 155.00

€ 172.00

2 Half Marathons
€  99.00

€ 112.00

€ 125.00

1 Half Marathons
€  52.00

€  59.00

€  65.00
WARRIOR – Full Marathon Run / Walk
WARRIOR
Early Bird PLUS 
Expires 31st Sept. '23
Early Bird
Expires 31st Jan. '24
Normal Fee
Closing 6th Aug '24
 4 Marathons
€ 225.00

€ 255.00

€ 279.00

3 Marathons

€ 179.00

€ 199.00

€ 224.00

2 Marathons

€ 125.00

€ 139.00

€ 155.00

1 Marathons

€   65.00

€  72.00

€  79.00
Plus the normal Race Day percs:
Quality event shirt for each participant
Race Support where your requirements are priority
Accommodation costs much cheaper than most other event locations
Registration T&C's
All participants must register online, the process is easy and will only take a few minutes. We use Sportident SI registration which offers versatility and editing facilities for registrants. Payments will be via Credit /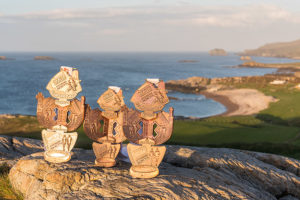 Laser /Debit card and prices include all booking fee's. If you need an alternative method please contact us. Participants are encouraged to consider fundraising for their preferred Charity to help heighten their overall experience and achievement in the event. If you are fundraising then please let us know how you got on before race day.
Our Event Charity Partner this year is MAYA Universe Academy in Nepal. This is a school / orphanage in the Jungle in Nepal. I go there in January & February each year to do voluntary work and I use the donations to buy materials for whatever project I'm assigned to. Any surplus going to buy tools or into the school fund.
Registrants can access their entry via EDIT ENTRY to make changes anytime up unto registration closes.
In the event that you become unable to do the event there is no refund, however you have the following options;
Transfer your entry to another runner at anytime while registration is open via EDIT ENTRY.
Defer your entry to 2025, however, should the event not proceed in 2025 you will not be entitled to refund.
Rules, T&C's
On registering for the Challenge you waiver any liability on the organisers for injury, damage or loss and agree to be bound by the rules and regulations of the organisers.
Contestants are advised to have their own personal insurance for cancellation / Injury etc.
If for any reasons arising out of weather conditions / H&S concerns etc., the course organisers reserve the right to alter or vary the course as they see fit.
If for any reasons arising out of weather conditions, "Act of God" circumstances, "Force Majeure" clause etc. an event is postponed, every effort will be made to reschedule the event at a suitable time in which case all registrations will be valid for the newly scheduled date. In such cases deferrals to 2021 may also be considered based on circumstances.If the event date has to be rescheduled and new date is unsuitable, you have the option of refund or deferral.
Organiser's decision will be final on all matters.
Medals
2024 Combi Medal – Our Medals – are the business
Everyone who completes the Warrior & Quest will receive a medal each day, These medals are Combi-Medals and will combine to make 1 large Plaque. If medals are your thing then you really must have this medal in your collection. Both sets of medals will have a coloured enamel finish like our stunning 2023 Warrior Medal
Extreme North will have an assembly crew at the finish line on the Sunday assembling the medals, so feel free to avail of this for your final photo's.