Rocks N Rollin Ultra – Intro
Provisional Date – Spring 2019
63K Ultra Marathon, Full Marathon,  Half Marathon, 7 Miler.
Due to popularity of our Quadrathon Challenge and the incorporation of the 105 mile Hero Ultra stage in 2017 we have decided to  concentrate all our energy this year on the further development of the Quadrathon and postpone the Rocks N Rollin Ultra in 2018 with a view to rescheduling it earlier in the Spring of 2019.
We will keep an eye on the race calender this spring to establish a more suitable slot in 2019 as we appreciate that many runners really enjoyed the amazing variety of road / trail that this event offered.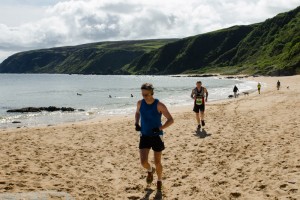 Event features
Spectacular coastal terrain of mountains, tracks and beaches
Superb hospitality / camaraderie
Stunning Medals
Single day or Back 2 Back entry options.
World class endurance challenge
Keen registration fee's
We are delighted to assist with accommodation needs.