Course Details – 15th to 18th August '24
General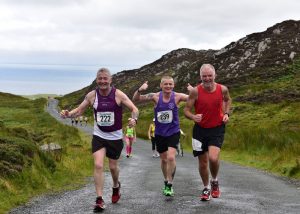 A Separate route every day, completing a single 105 mile loop over 4 days.
Travelling 105 mile of coastal roads around Inishowen 100 / Wild Atlantic Way scenic route. The routes are a mass of beautiful scenery and dotted with historical landmarks and small friendly towns and villages. The perfectly balanced choice of course each day and our added hospitality and care for runners are what make this event so Unique and a ell earned reputation of the "
best of its kind in Ireland or Europe
", not our words but those of past participants testimonials which are indisputably the "proof of the pudding".
Extreme North races require a little more endurance than normal flat marathon courses. Essentially it's a certified marathon distance stripped back to its origins of endurance with your body clock, as opposed to your stop watch confirming that you have just completed a real endurance test.
The event is suited to all levels of endurance athlete's offering separate start times to accommodate Walkers / Slow runners as well as the elite endurance runner. Allow an extra 10%+ on your normal marathon time to account for elevation and Back 2 Back runs
Course surface
You can assume that the entire course is on Tarred road. If there is any small section not it is not likely to affect your choice of runners.
Day 1
Day 1, Thursday – Kinnego Marathon
WARRIOR COURSE (Full Marathon )
The Kinnego Marathon has a sample of everything you can expect over the next 4 days, flat scenic coastal roads, small villages, enduring hill climbs and stunning scenery that changes with every turn of the road. Day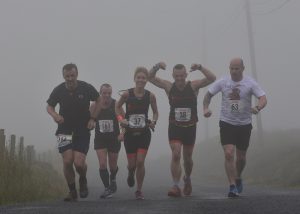 1 Marathon commencing in Moville with a reasonably flat and scenic 9 mile along the banks of the Foyle, passing through Greencastle village, the Golf links, Shroove then change direction offering a panoramic view over Lough Foyle and Causeway Coast. Then turning right for one of the toughest 2mile hill climbs (900 ft elev.) to be encountered over the 4 days, climaxing at the summit with fantastic panoramic views all around you before a 2.5 mile steep decent towards the Half Marathon stage just South of Kinnego Bay. As for every day there will be Kit drop, toilets and food facilities at the Half Marathon stage
Course Map
GOOGLE MAP LINKS TO  Day 1 – Kinnego    https://goo.gl/maps/J1FJ8NTnVEv

/>QUEST COURSE (Half Marathon)
The Half Marathon start and second stage of the Marathon pass the beautiful Kinnego Bay  of Spanish Armada fame before encountering a tough 1k climb signalling the end of enduring climbs for day 1 so you can relax into most of the the remaining 11 miles of rolling scenic coastal roads passing Tremone, Ballyharry then through the beautiful village of Culdaff and onto the beautiful tourist village of Malin and the welcoming finish gantry on the Green.
Shower facilities at the Malin GAA club house, just 100m from finish and a hot meal awaits you in the Malin Hotel.
Course map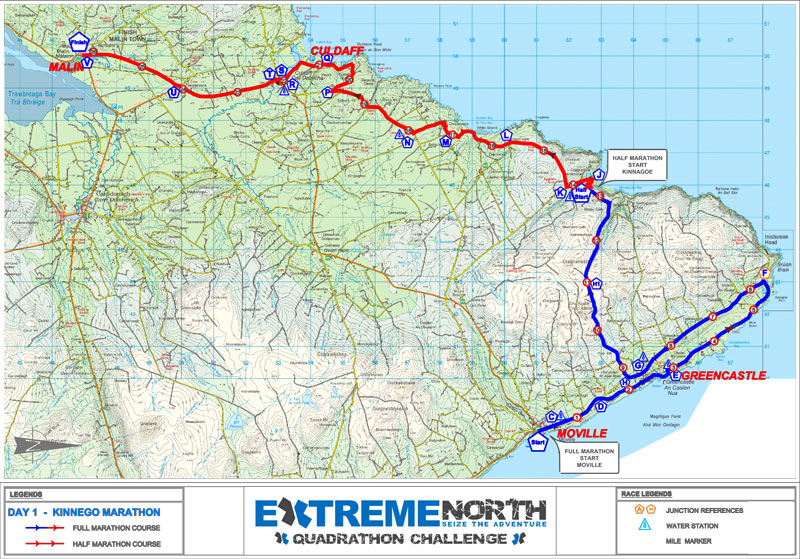 Day 1 – Kinnego marathon – course map – Click here for enlarged image
Course Gradient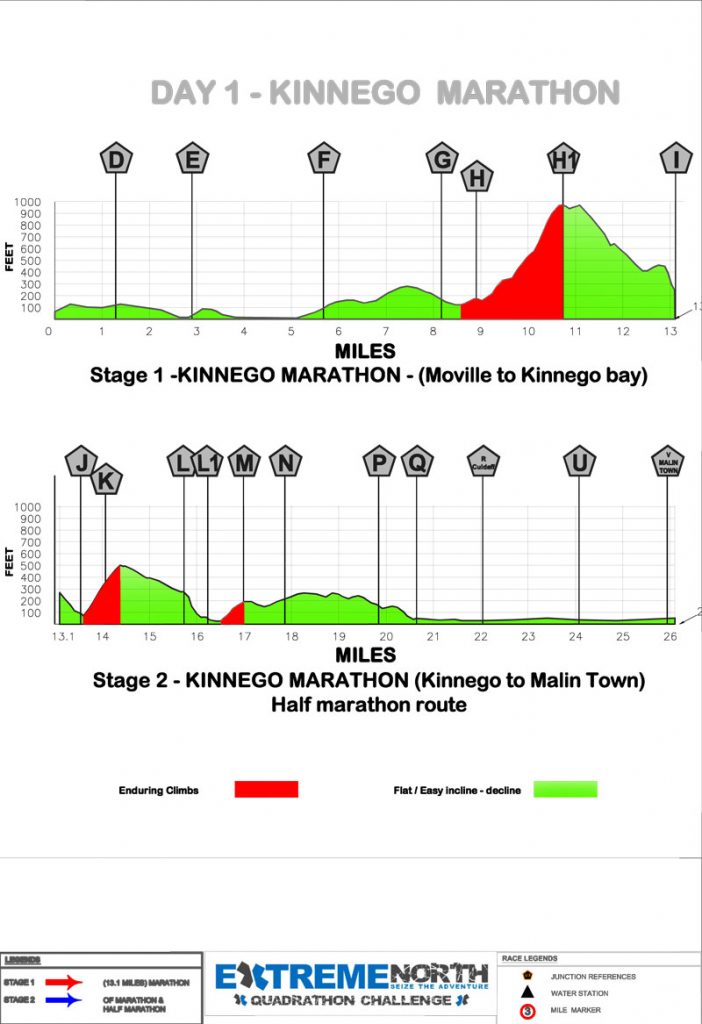 Day 1 – Kinnego – course gradient – Click here for enlarged image
Day 2
Day 2, Friday – Malin Head Marathon
New and extremely Unique – Combined with ALPACE WALK
Todays participants have the option of "WALKING AN ALPACA" This kicks in after the 20mile marker on Warrior or 7th Mile on the Quest. You take your Alpaca on reins "Off course" up the mountain for about 1.25Km where there are panoramic photo opportunities, with your 4 legged friend and you will join back into the marathon course a little further on. The start line will be adjusted for Alpaca Walkers but you should allow an extra 5 – 15mins onto your course time for a slightly higher climb, Alpaca pace and photographic opportunities. Depending on demand there may be limited availability so book early, cost €20 For more details or to book privately with family click here
WARRIOR COURSE (Full Marathon)
Irelands most Northerly Marathon with views and landscapes that are unique to the West Coast of Ireland. This Marathon is on the most northerly coastal roads, skirting past amazing landscapes with the Atlantic waves almost lapping at your heels in places.
Starting from yesterdays finish in Malin Town and 4 mile along marathon runners will spend the rest of their day on the WIld Atlantic Way route as they feel the fresh winds of the North Atlantic keeping their bodies cool as the route sweeps along the northern coast with the sound of the Atlantic waves being the only intrusion to your thoughts as you witness some of Irelands most fantastic coastlines
Google maps link to Day 2 – Malin Marathon   https://goo.gl/maps/9Vk87M3xqxG2
Course Map
/>QUEST COURSE (Half marathon)
The Half Marathon stage starts at the Pier Road as the rugged sea coastline opens up to the right as runners make their way to Banba'a Crown, Irelands most northerly land point with only the sound of waves lapping off the rocks being the only interruption to your thoughts. 6 miles into stage 2 runners will embark on todays main climb of Knockamanny Bends. Not as gruelling as yesterdays climb with less than 600ft over 2 mile distance. The good news is that the remaining 5 mile is either descending or completely flat passing beautiful beaches at Lag then back to Finish Arena at Malin Town with the usual hospitality laid on.
Course Map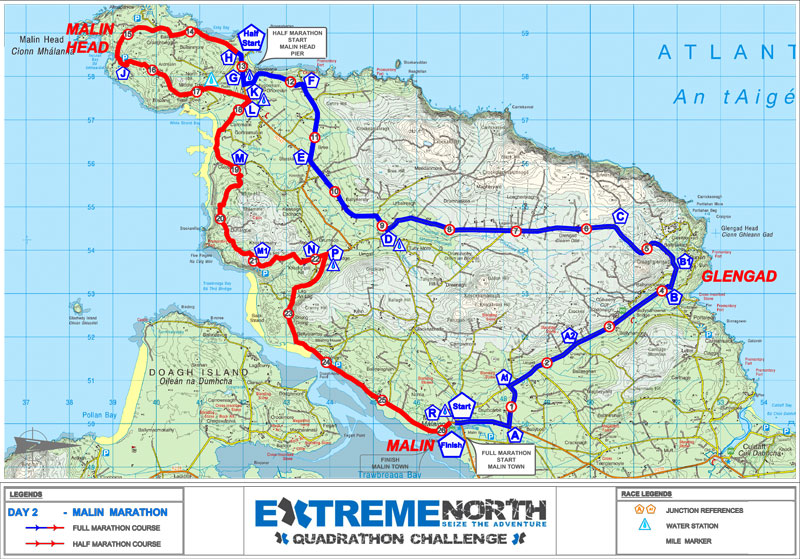 Day 2 – Malin marathon – course map – Click here for enlarged image
Course Gradient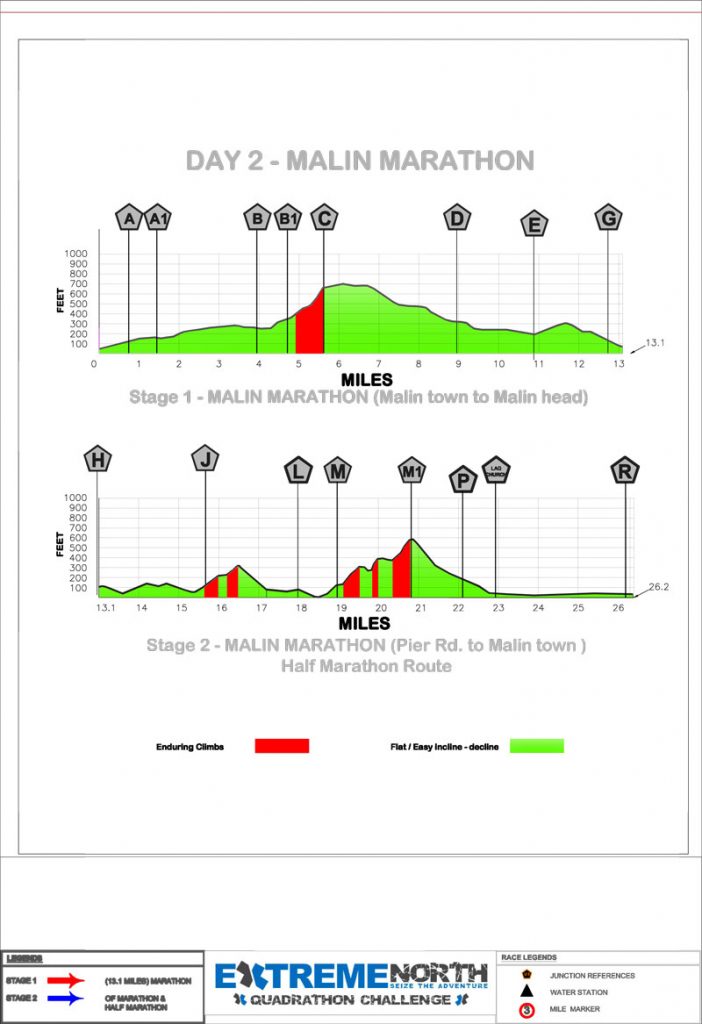 Day 2 – Malin – course gradient Click here for enlarged image
Day 3
Day 3, Saturday – Mamore Marathon
WARRIOR COURSE (Full Marathon)
Jury is still out on the toughest day of the Quadrathon, Its definitely between Day 1 and today, regardless, you now have a flavour of what to expect. Today's course is flatter than day 1 with the only daunting feature being Mamore Gap, you may not know of it, but you definitely will remember it if you sign up for the Mamore Marathon or Half Marathon.
Starting in Malin, runners will make their way through Carndonagh, Ballyliffin and Clonmany on a relatively flat / drag route before arriving at the Half marathon stage at Tullagh, near the Rusty Nail bar in Urris.
Google Maps link Day 3 – Mamore Marathon https://goo.gl/maps/r6Dec2n9PPu  (Less final 1k on shore path to Sunday start point)
Course Map

QUEST COURSE (Half marathon)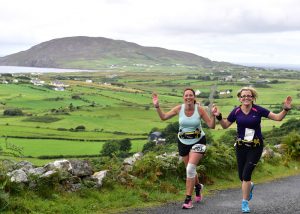 Half Marathon and Marathon runners can only hope for a calm day as the next 4 flat mile, can often be hampered with winds coming off the North Coast which definitely impact on your speed. Wind or no wind, at end of this you will encounter Mamore Gap, 2 small words for 1 large climb.
Mamore climb is an 880ft climb over 1.2 miles rising sharply over first and last increments  Only a handful of runners have manage to resemble anything like running this section, the remainder resorted to walking, crawling or whatever it took to get to the top.
After taking in the panoramic views all around you, now you must evaluate what the last few miles has sapped of your energy before embarking on a remaining, what seems normal, 14k with no major surprises. Todays finish route takes you onto the coastline at Neds Point and a final 1 mile run along the Shore Path into Buncrana and the finish line at Buncrana Youth Club.
Course Map

Course Gradient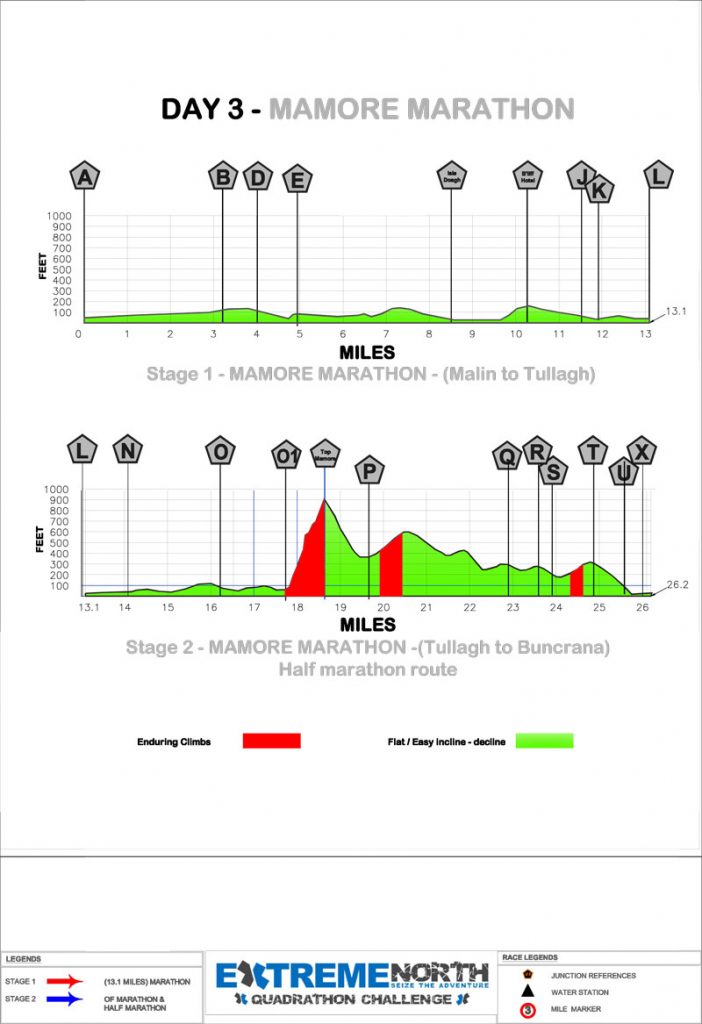 Day 3 – Mamore – course gradient – Click here for enlarged image
Day 4
Day 4, Sunday – Muff Marathon
Google Maps Link Day 4 – Muff Marathon     https://goo.gl/maps/DZvpNGv9KXU2
WARRIOR COURSE (Full marathon)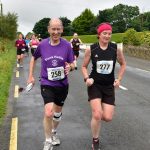 Buncrana the course takes in a 7 mile flat stretch along the East bank of Lough Swilly then turning left and onto a Muff and the half marathon start.
QUEST COURSE (Half marathon)
Half Marathon runners will also be delighted to learn of a flat course today, especially those who have run on the 3 previous days. Starting in Muff village this is a flat straight course all the way to the finish line along the West banks of the River Foyle, passing Quigleys point, Redcastle and finishing in Moville.
Course Map

Course Gradient
Day 4 – Muff – course gradient – Click here for enlarged Image