INISHOWEN – Tourism & Innovation events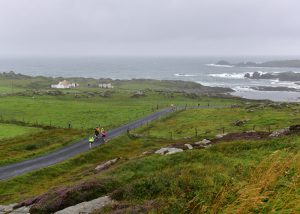 It is well documented that Inishowen is one of Tourisms best kept secrets, a statement used more as a whinge against lack of support from the establishments rather than a boast. Extreme North believed that Inishowen had a lot to offer, hence the decision to create innovative events here.
Innovative events, from the onlooker perspective, often start their life under the banner of "Completely Daft" or "He's lost the plot completely" and I'm certain that the Inishowen onlookers were no different in their expectations. Well, what else could I expect when the notion had often entered my head also and I had to work my arse off so as not to be proven a "Complete Eedjit"
As it turned out, I only thought I had an appreciation for Inishowen, but as the growing number of visitors started to "sing the praises" of the area, compare it to more established locations around the world, tell their friend that they must come and talk about their lasting memories of the place & event, I suddenly realised that I didn't really have a proper appreciation for the area that I was born, breed and call home.
To the people of Inishowen I say; We first need to truly believe in this beautiful peninsula and realise it's worth, maybe then, outsiders will "come on board" with a similar enthusiasm. Inishowen is like the best ingredient you could have when preparing a meal, so it's up to you to simply add the trimmings and present it in a fitting manner, then you will succeed
The Wild Atlantic Way is our true road map to Inishowen, and to date we have endless untapped potential, so when WAW delivers it's visitors let us be sure to look after them and provide a menu of activity to keep them here a while, because I can assure you that they do get completely enthralled with our Beautiful Inishowen and their lasting memories are what we have to build our future on.
#Inishowen, #running, #adventure, #events, # scenery, #hospitality