Sign up/Prices – Sat 1st August 2020
Registration
Originally Sat 25th April 2020. – Rescheduled to Sat. 1st August – Registration reopens Mid May –
All participants must register online, the process is easy and will only take a few minutes. Payments will be via Credit / Laser /Debit card and prices are subject to a booking charge. If you need an alternative method please contact us. Participants are encouraged to consider fundraising for their preferred Charity to help heighten their overall experience and achievement in the event. If you are fundraising then please let us know how you got on before race day. Our Event Charity Partners are TLC4CF which was founded by friends and family of People with Cystic Fibrosis (PWCF) in Tipperary, Limerick and Clare. so if you wish you can donate a few euro when registering.
Registrants can access their entry to make changes anytime or change participant name and details up to up to event registration closes, usually week – 10 days before the event. Bookings are non refundable and see T & C for details of race transfers to alternative event.
Rules, T&C's
On registering for the Challenge you waiver any liability on the organisers for injury, damage or loss and agree to be bound by the rules and regulations of the organisers.
Contestants are advised to have their own personal insurance for cancellation / Injury etc.
If for any reasons arising out of weather conditions / H&S concerns etc., the course organisers reserve the right to alter or vary the course as they see fit.
If for any reasons arising out of weather conditions, "Act of God" circumstances, "Force Majeure" clause etc. an event is postponed, every effort will be made to reschedule the event at a suitable time in which case all registrations will be valid for the newly scheduled date. In such cases deferrals to 2021 may also be considered based on circumstances.
Organiser's decision will be final on all matters.
Race Prices
Originally Sat 25th April 2020. – Rescheduled to Sat. 1st August – Registration reopens Mid May –
Our Race prices, include for lots more than most races and include all registration charges.
Race entry closing Monday 20th April 2020
Race Choice
Solo or Team
Race Fee
Comments
105Km TITAN
* Solo
€ 129
Includes for Transition change area's & manage transition kit. Include's free Tuff-Inish Cycle Top
* Team of 2
€ 195
62Km EXTREME
Solo
€  69
Team change over at Transition area's only. Each team decides on own strategy for change over.
Team of 2
€ 110
41Km REBEL
Solo
€  62
26Km SPRINT
Solo
€  55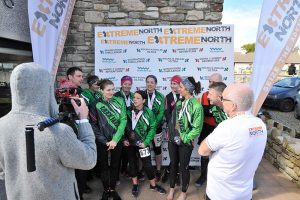 TEAMS – Teams of 2 in the TITAN & EXTREME can alternate at whatever stages they choose and only 1 team member allowed in any stage. Teams will be responsible for their own transport between stages.
What you get for your money
*  Cycle Top with Ultra only
Event T Shirt
Special Race Medal
Timing Chip
Race Support
Goody's & Hot food at Finish.
Medals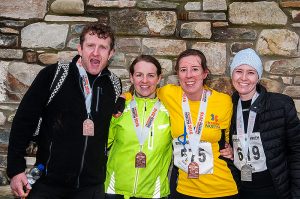 Our Medals – are the business 
Extreme North are proud of their medals and the finish medal for Tuff-Inish will be no exception Your guaranteed a special memento to reminisce on your fantastic achievement.