Rocks N Rollin Ultra – Sat 18th May 2019
[ezcol_1half]

[/ezcol_1half] [ezcol_1quarter]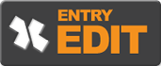 [/ezcol_1quarter] [ezcol_1quarter_end]

[/ezcol_1quarter_end]
Course description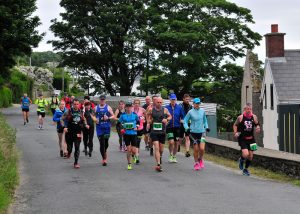 The course in general
The routes are a mass of stunning scenery, dotted with historical landmarks, beautiful beaches and enduring climbs. Extreme North take no credit for the fantastic routes other than identifying them but our added hospitality and care for runners is part and parcel of what makes this a memorable event.
Extreme North route choices require a little more endurance than normal flat marathon courses. Essentially it's a certified marathon distance stripped back to its origins of endurance with your body clock, as opposed to your stop watch confirming that you have just completed a real endurance test.
This event is suited to all levels of athlete's offering a 7 miler, Half Marathon, Full Marathon and Ultra Marathon distances. The Back to Back options allows that you can go home with double the glory and medals to match.
63k Ultra Race
The Ultra (39.3m) – Start – Moville – Time 7.00am – (The first 13.1 mile)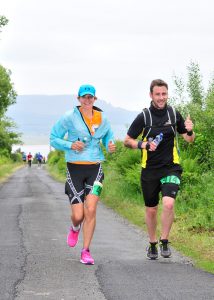 The starting horn will set runners off along the beautiful shore path then onto road and the first climb of the day up to 300ft by mile 3. A breather and breath taking views ahead as the Ultra runners makes it back onto the shore path then over grass tracks, beach and a few rocks as you enter the lovely fishing village of Greencastle and back onto tarred surface again for the next 3 coastal miles to Shrove. Embarking onto a 5 mile mountain track shows the majestic coastline of Donegal with the causeway coast visible at a distance and the final decent near Shrove and Full Marathon Start.
Full Marathon – Start – Drunken Duck, Shrove – Time 9.30 Run/ 8.00 Walk – (The next 13.1 Ultra miles)
Starting with a fabulous view over Lough Foyle for 2 mile before runners embark on a tough 2 mile climb over Ballymacarthur Hill followed by a sharp decline into the "Back Glen" near Kinnego Bay. A narrow path section will slow things down a little now followed by a short rocky section leading onto the beautiful Kinnego bay and passing the watery grave of a Spanish Armada before getting onto road, all in all a very slow but very interesting mile. All this followed by a further tough 1 mile climb then the course calms down to more normal terrain and beautiful coastline at Tremone. Weaving through small villages of Ballymagaraghy and Carrowmenagh and eventually complete a flat 2 mile off road with single tracks as participants now arrive at the Half Marathon start and final 13 mile of the run.
Half Marathon – Start, Falmore, Gleneely – Time 11.30 Run / 10.30 walk – (The last 13.1 Ultra/ Marathon miles)
All 3 races make their way on a mix of road and bog track with some small inclines but mostly flat and declining terrain over the next 6 mile section. In all cases participants are surrounded with captivating landscapes and scenery. So now it's onto the last climb of the day.
7 miler Run – Start, Ballyrattan, Redcastle, – Time 12.30 Run / 12.00 Walk – (The last 7 mile)
7 Mile participants may feel hard done by with an immediate 1.5k off road climb but bear a thought for the ultra guys who will be on 52k by now. The next 5k (3 mile) is all undulating hill track with the final 2k of Hill track descending and offering a panoramic view of East Inishowen and the Northern Causeway Coast. The final 6k is on road along the West Coast banks of the Foyle
Finish Arena
The finishers arena will greet you with a welcome worthy of the challenge and you can rest breathlessly as you savour the hot food and goodies while reflecting on an amazing achievement on an equally amazing course. The finishers medals and T shirt will serve as a deserving memento of a job well done.
CHOOSE SOME PHOTO'S
Course Maps
Click on files below for all race maps

Ultra Start – 1-13 mile – Click here for detailed map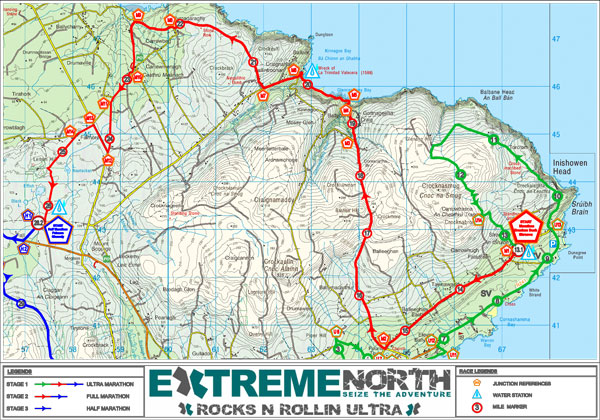 Marathon Start – 13-26 mile – Click here for detailed map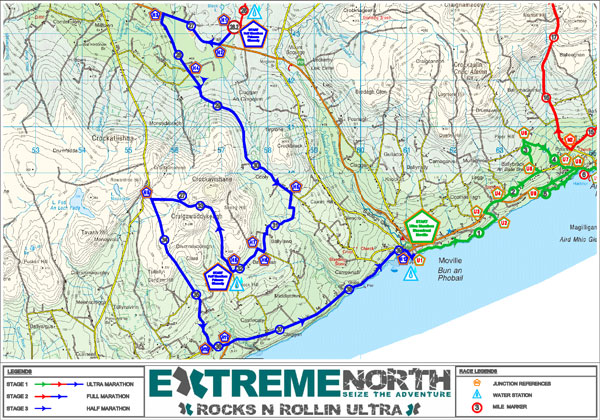 Half marathon Start – 26-39 mile – Click here for detailed map
Course Gradients
Click on file below for all course gradients