Course Details – 28th September '19
[ezcol_1half]

[/ezcol_1half] [ezcol_1quarter]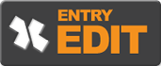 [/ezcol_1quarter] [ezcol_1quarter_end]

[/ezcol_1quarter_end]
Stage 1
STAGE 1 – RUN 1 – 12.5km Road Run  /  Moville – Shroove – Greencastle
Tuff Inish has an early dawn start from Moville Celtic Club house up thru' Moville town with spectacular views over the Causeway Coast from 5k before the decent into Shroove and onto Greencastle and T1.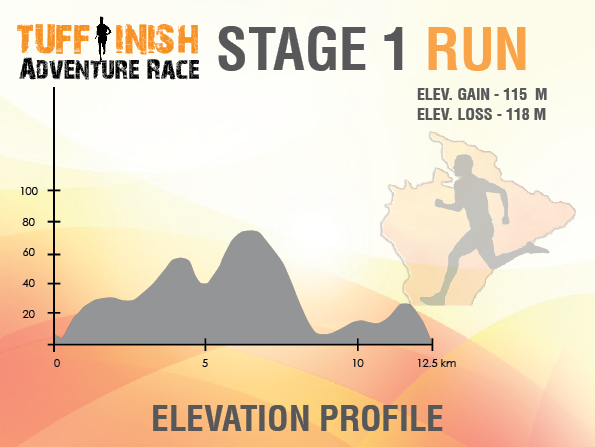 Stage 2
STAGE 2 – KAYAK – 5.5km Kayak  /  Greencastle – Moville
Starting from Greencastle Pier the Kayaking will take place along the West Bank of Lough Foyle. Kayaks will be sit-on-top kayaks. Paddles and Life jackets supplied. Kayaks will not have seats but competitors can opt to have their own seats and be personally responsible for fitting same to kayak.
Stage 3
STAGE 3 – CYCLE 1 – 55.0km Road Cycle  / Moville – Kinnego – Culdaff – Malin – Ballyliffin – Clonmany – Mamore
The elevation profile below illustrates this route better than words can so just add in some windy spells along this rugged coastal route. You'll witness some of the most amazing scenery as you climax numerous vantage points along the route. save your energy for a tough final 0.5k ascend to Car Park at Mamore T3/4.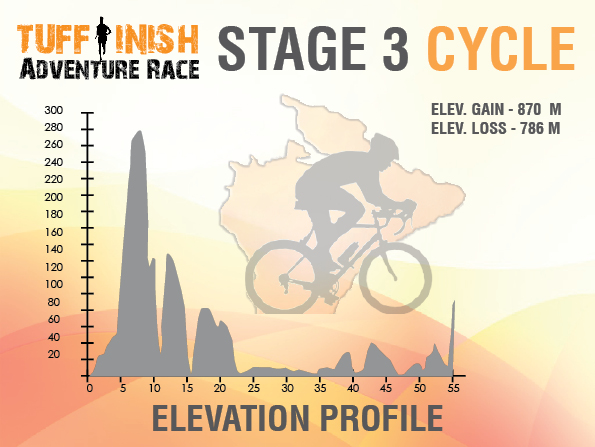 Stage 4
STAGE 4 – MOUNTAIN – 5.5km Mountain trail/trek
Starting with first half on trail then onto a rocky heather climb to the top of Raghtin Beag at just under 3k. Hopefully mist free and taking a few minutes to be amazed at the panoramic vista all around, then back to transition T3/4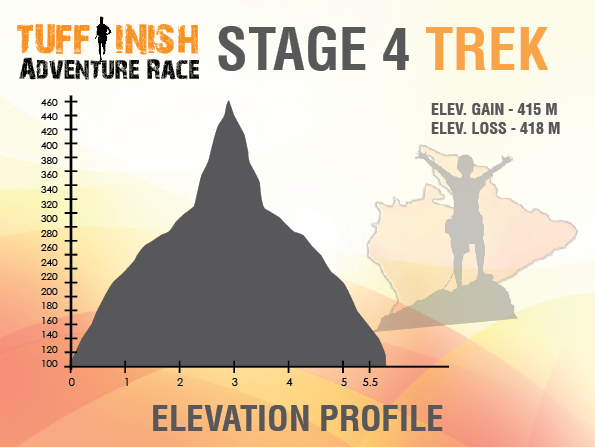 Stage 5
STAGE 5 – CYCLE 2 – 31km Road Cycle  / Over Mamore – Dunree – Cockhill – Ballymagan – Glentogher
Starting with a really tough 1.5k climb over Mamore, then a more relaxed cycle into Buncrana. The final section from Ballymagan to Glentogher is hillier than it appears, hence the slower than expected pedal on narrow roads and sometime poorly tarred surface.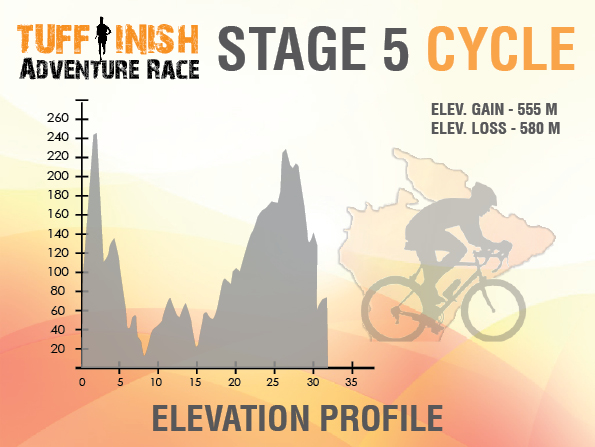 Stage 6
STAGE 6 – RUN 2 – 22.5km Run, Road/trail  / Glentogher – Lough Inn – Crock – Ballylawn – Cooley – Glencrow – Finish
Starting on trail, check out the Elevation profile below for the 2 other trail sections. Lots of turns and twists but compensated with fantastic scenery at numerous vantage points and despite a few climbs this is predominantly a descending gradient on mostly quite rural routes with a final 3km downhill and back to the Finish at Moville Celtic Club House.